Schedule
Speakers and schedules for workshops and sessions are subject to change. Seating is available on a first come, first served basis.
All sessions, workshops, keynotes and panels will be held at the Oregon Convention Center (777 NE Martin Luther King Jr Blvd) D Series Meeting Rooms and Exhibit Hall E.
Sun | Tues | Wed | Thurs | Fri
---
Sun., MAY 19
9:00am – 6:00pm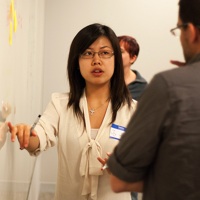 Location: Open Sourcery
Cost: Free
Hackathons are events when programmers and designers meet to work collaboratively to build programs and applications. The day will begin with short presentations by educators and non-profit organizations, followed by informational sessions on building sites and web applications to help benefit non-profit organizations: The Dalai Lama Center, Dress for Success, Habitat for Humanity (Re)Store and Compassion & Choices.
---
TUES., MAY 21
7:00pm – 8:30pm
Location: IPRC (1001 SE Division St)
Cost: Free
It's an undeniable trend: every day, more and more people are reading books and comics on their phones, e-readers and tablets. Rather than disappearing, though, physical books and comics are evolving into more highly-designed art objects. Hosted by the Independent Publishing Resource Center, this conversation will involve a vibrant group of Portland-based writers, zinesters, small press publishers and comics artists, all of whom are thriving within the intersections of traditional printing and digital publishing.
This event is part of Wild: Portland, an exploration of the frontier of art, technology and culture.
---
WED., MAY 22
Morning Workshops: 09:00am – 12:30pm
Responsive First:
Building Sites That Scale – SOLD OUT
Jason Cranford Teague
Front End Legos:
Reusable HTML & CSS
Shay Howe
The Workshop Workshop
Russ Unger and Brad Nunnally
CSS3 User Interface Design
David McFarland
Play to Change:
Using Game Mechanics to Motivate Your Audience – SOLD OUT
Carolyn Chandler and Jason Ulaszek
Accessibility for UX Designers
Derek Featherstone
---
12:30-2:00pm – Lean UX at Noon
Join ProtoShare's Andrew Mottaz for a free, mid-day mini-workshop on Lean UX. Learn about treating design ideas as hypotheses, and replacing giant spec docs with a shared understanding. This is a first-come, first-served workshop so arrive early to guarantee a seat!
---
Afternoon Workshops: 02:00pm – 05:30pm
90% of Design is Typography
Thomas Phinney and Jim Kidwell
Design Studio:
A Method for Idea Generation, Critique and Iteration – SOLD OUT
Aaron Irizarry and Adam Connor
Implementing Layouts with CSS3 – SOLD OUT
Chris Mills
Real World Lessons:
Moving to Lean UX
Bill Scott
Using UX Design Principles & Methodologies in Design Management & Innovation
Mel Lim – SOLD OUT
---
2:00-4:00pm
A two-hour mentorship workshop for girls that starts with an overview of the speed mentoring process by Ivo Lukas, Chief Innovation Officer of Girls in Tech and features women tech mentors. RSVP to this popular, free program for girls!
Sign up
---
7:00-9:00pm
Spirit of 77 (500 NE Martin Luther King Jr Blvd)
It starts with a block of wood, four wheels and four axles, and ends in a 100-car, gravity- and alcohol-fueled single-elimination race. Register asap if you want a car!
---
THURS., MAY 23, 2013
7:45am – Registration Opens
---
9:00am
Main
Brad Smith, Welcome message
---
9:15am
Main: Keynote
The Future of the Web is Video
Leslie Bradshaw
By 2014, Cisco estimates that 56 percent of all Internet traffic will come from viewing Internet video and Internet video-to-TV. This makes sense considering that people prefer video content to text content at a rate of 2-to-1. As the demand for video continues to surge online, there is another video-centric platform that will have a resurgence in the next few years: the television…read more
---
10:00am – BREAK
---
10:15am
D133/134
Modern Style Guides for a Better Tomorrow
Shay Howe
D135
Misconceptions on Perception
Brad Nunnally
D136
Rules of Thumb for Design Chicanery from the
Obama for America HQ
Jason Kunesh
D137/138
Death to Pixel Perfect Design!
Prototyping for the Real World
Jason Cranford Teague
D139/140: Panel
Future of Comics
Ethan Nicolle, David Celsi, Rachel Nabors, Richard Bruning, and Arnold and Jacob Pander
---
11:00am – BREAK
---
11:15am
D133/134
Future Web Layouts
Chris Mills
D135
Anti-Patterns that Stifle Lean UX Teams
Bill Scott
D136
Designing Life & Brands Through Aspirations
Mel Lim
D137/138
Doors, Walls and Old Trees:
Prioritizing to Get Simple
Jason Ulaszek
D139/140: Panel
Bridging the Gap:
Women in Technology
Ivo Lukas (Moderator), Kerry Bodine, Audrey Iffert, and Ramune Nagisetty
---
12:00pm – Lunch / Break
---
1:30pm
D133/134
The World Is The Screen:
Understanding the Ecology of Context
Andrew Hinton
D135
American Comics:
History, Technology, Culture
Richard Bruning
D136
From User Experience to Customer Experience
Kerry Bodine
D137/138
The Business of Play
Carolyn Chandler
D139/140: Panel
Digital Democracy & Startups
Mark Trammell, Jason Kunesh, Carla Axtman and Kari Chisholm
---
2:15pm – BREAK
---
2:30pm
D133/134
A Sketch is Worth a Thousand Words:
Using Sketching as a Communication and Collaboration Tool
Aaron Irizarry
D135
Crowdsourcing the Feminine Intelligence of the Planet
Jensine Larsen
D136
Solving the Right Problem
Mark Trammell
D137/138
Researching with a Team That is New to Research
Russ Unger
D139/140: Panel
The Future of Making
Mark Frauenfelder, Tori Nguyen, Cathy Zwicker, and Susan Beal
---
3:15pm – BREAK
---
3:30pm
D133/134
Creating Animated Music Videos with CSS3 and HTML5
Rachel Nabors
D135
Welcome Makers!
Kevin Hoyt
D136
What Designers Can Learn From Filmmakers
Adam Connor
D137/138
Thinking Beyond the Device
Derek Featherstone
D139/140: Panel
Doing Your Best Work for Social Good
Jason Ulaszek, Jensine Larsen, Carolyn Chandler, Charlie Brown and Janell Watt
---
4:15pm – BREAK
---
4:30pm
Main: Keynote
Making Makers:
New Tools and Ideas that are Fueling a Movement
Mark Frauenfelder
Starting with a brief but colorful history of 19th and 20th century making, Mark will present the new tools and technologies that are driving innovation and giving individuals and small groups the ability to create amazing things that would've been out of their reach a few years ago…read more
---
7:00-9:00pm
Launchpad! A VC, Startup and Tech Party
Location: Postano HQ (1532 SW Morrison St, Suite 200)


Join VCs, startups and the tech community in an unveiling of Greater Portland's powerful new tool to help companies expand and locate to the Portland region, plus Postano's demo of its latest innovations, including its massive visualization wall. Enjoy free beer courtesy of Full Sail Brewing and snacks sponsored by Greater Portland.
This is a free event - space is limited to 140 attendees.
---
FRI., MAY 24, 2013
9:15am
Main: Keynote
Making Meaningful Design with the Internet of Things
Carla Diana
---
10:00am – BREAK
---
10:15am
D133/134
Content Strategy for Multi-Touchpoint Experiences:
A Facebook Case Study
Melody Quintana
D135
Making 101.
Rapid Design with Data
Jewel Mlnarik and Nick Blanchard-Wright
D136
One Web to Rule Them All!
The Real Responsive Process
Steve Fisher
D137/138
Walt Disney:
The World's First User Experience Designer
Joseph Dickerson
D139/140
AIGA Portland Presents SHIFT Deluxe
---
11:00am – BREAK
---
11:15am
D133/134
Typography is the New Black
Jim Kidwell
D135
The Rise of Content Marketing
Anoop Sahgal
D136
The Content Competitive Advantage
Scott Cowley
D137/138
Just Make It Fun:
What Designing For Kids Can Teach Us About User Experience
Debra Gelman
D139/140
AIGA Portland Presents SHIFT Deluxe
---
12:00pm – Lunch / Break
---
1:30pm
D133/134
Context is King:
Using Visualization to Tell a Story Consumers Can Trust
Jason Lankow
D135
Mr. Know-It-All:
Brainy B2B Brands for a Social, Mobile Planet
David Smith
D136
Mobile Web Design Anti-Patterns
Dave Shea
D137/138
Build Your Brand the Rock Star Way
Rafa Soto
D139/140: Panel
Snackable Content
Josh Daniel, Nam-ho Park, Emily Inlow-Hood and Brad Smith
---
2:15pm – BREAK
---
2:30pm
D133/134
Your CSS is a Mess
Jonathan Snook
D135
Connected Thinking:
Kill User-Centric Design
Scé Pike
D136
Keep Asking Why
Bill DeRouchey
D137/138
R&D (&P):
Research, Development and Play
Thomas Wester
D139/140: Panel
Startup! Real Stories and Life-Saving Tips:
A Panel Discussion with Leading Entrepreneurs, VCs and Angel Investors
Kevin Rose, Mamoon Hamid, Adam Arthur Bier, Gino Zahnd, and John Bragg
---
3:15pm – BREAK
---
3:30pm
D133/134
The Art of Explanation:
Because Design and Technology are Not Enough
Lee LeFever
D135
Science Up Your Designs
Chrissie Brodigan
D136
Your Responsive Tool Box
Jacob Surber
D137/138
Secrets Revealed:
Web Development is For Everyone
Jeff Cohen
D139/140: Panel
Startup! Real Stories and Life-Saving Tips:
A Panel Discussion with Leading Entrepreneurs, VCs and Angel Investors
Kevin Rose, Mamoon Hamid, Adam Arthur Bier, Gino Zahnd, and John Bragg
---
4:15pm – BREAK
---
4:30pm


Main: Keynote
The Axe Cop Story:
How Two Brothers Created a Massively Popular Online
Comic Series
Ethan and Malachai Nicolle
---
7:00-10:00pm
Wrap Party
Location: Nel Centro (1408 SW Sixth Ave)
Join WebVisions, DrupalCon and SymfonyLive attendees and speakers for an evening at one of Portland's hippest bars and restaurants. We'll have a special no-host drink and appetizer menu and will hang out in the courtyard (with its awesome fire pits) as long as the weather cooperates. See ya there!